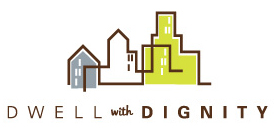 About Dwell with Dignity
Dwell with Dignity designs and installs complete home interiors for families who desperately need an environment that will support health and wellness. We empower families to lead their best lives and to thrive in a safe, functional, and beautiful environment.
Dwell with Dignity follows a three- step approach to bringing transformative design to those in need:
Nomination- Preparation- Transformation
Nomination
First, partner nonprofit agencies nominate a formerly homeless family who has graduated from their program and achieved self-sufficiency. These families have worked hard to pull themselves out of poverty, but do not have the financial means to decorate a home.
Preparation
Next, our full-time program director and designer will sit down with the family to discuss their needs, wants, and goals. The home is then laid out in specialized software, while volunteers began making one-of-a-kind DIY art and furniture for each home.
Transformation
Lastly, our staff and volunteers take over the family's home for three days, providing all furnishings, toiletries, groceries, and home goods. This includes 7-8 custom made, refurbished items, such as dressers, desks, and art. The family is welcomed into their transformed space and provided a hot meal to enjoy together to celebrate their first night in their beautiful home.
For more information you can contact them on their website.
You can also check out this video of their work